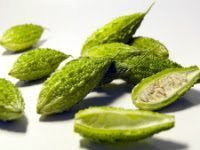 A cousin of watermelon, cucumber and pumpkin, Bitter Melon is shaped like a cucumber, only larger with lighter green and more gourd-like skin. In tropical cultures, where it's cultivated, bitter melon is used to support digestion because of its ability to break down carbohydrates. When using for medicinal purposes, the entire plant can be used, dried or fresh, from leaves and stems to the actual juice.
Holistic physicians and researchers are interested in Bitter Melon for its effect on blood glucose levels in patients with diabetes mellitus. Chemicals in the extract act similar to insulin. A number of studies have found that bitter melon juice, fruit and dried powder have a moderate effect on lowering blood glucose. In other studies, a "plant insulin" injection given to patients with Type-1 diabetes showed a decrease in blood glucose. The decrease was not as significant for patients with Type-2 diabetes, but there was a decline in blood glucose levels compared to a control group. It seems that source and type of preparatio
n, as well as individual patient factors, may play a role in the effect of bitter melon on diabetes, which will inspire further research.
In India, bitter melon is used to make different vegetable preparations. Juicing is another way to utilize its beneficial properties but since it is very bitter, I like to use some raw honey, beets, carrots and green apple with it. You can also blend bitter melon into various foods and enjoy it several times a week when it is in season.
Although considered relatively safe, consult your holistic practitioner to determine the appropriate type and amount to use for your particular needs. If you are pregnant or nursing, only use the supplement under the care of a qualified practitioner.
References:
Basch, E. et al, "Bitter Melon (Momordica charantia): A Review of Efficacy and Safety" American Journal of Health-System Pharmacy (2003). Web: 6 Sep 2016: http://www.ajhp.org/content/60/4/356.short

Shane-McWhorter, L. "Dietary Supplements for Diabetes: An Evaluation of Commonly Used Products." Diabetes Spectrum (Sep 2009), 22 (4) 206-213; DOI: 10.2337/diaspect.22.4.206 http://jn.nutrition.org/content/133/4/1088.short

Fuangchan, A., et al,. "Hypoglycemic effect of bitter melon compared with metformin in newly diagnosed type 2 diabetes patients."Journal of Ethnopharmacology (Mar 2011) 134 2: 422-428. Accessed 6 Sep 2016: http://dx.doi.org/10.1016/j.jep.2010.12.045 http://www.sciencedirect.com/science/article/pii/S0378874110009219

National Bitter Melon Council. http://bittermelon.org/eat/cookingbittermelon
Image attribution: oddief1/bigstockphoto.com
The information offered by this blog is presented for educational purposes. Nothing contained within should be construed as nor is intended to be used for medical diagnosis or treatment. This information should not be used in place of the advice of your physician or other qualified health care provider. Always consult with your physician or other qualified health care provider before embarking on a new treatment, diet or fitness program. You should never disregard medical advice or delay in seeking it because of any information contained within this blog.
© Praana Integrative Medicine & Holistic Health Center, LLC. All rights reserved

Dr. Manisha Ghei February 19th, 2017
Posted In: Blog Post, Food, Integrative Medicine, Recipes
Tags: Bitter Melon, Diabetes Mellitus, Food, functional medicine, Functional Nutrition, heart healthy recipe, Insulin Resistance, nutrition, recipe, Vegetable