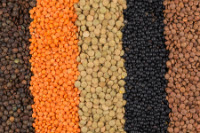 Coming from an Indian heritage, lentils have been an important part of my daily meals all my life. I absolutely love them and really wanted to share their beneficial properties with all of you readers and foodies!
Around the world, people enjoy the health benefits of lentils, part of a group of proteins known as pulses, which also includes beans, peas, chickpeas. Naturally gluten-free, lentils are rich in dietary fiber, protein, calcium, potassium, zinc, and iron. They help support lower cholesterol levels and are a great addition to the diet especially for people diagnosed with blood glucose/ blood sugar disorders.
Prior to the use of pharmaceutical medicines, lentils were used to deal with diabetic conditions. When included with a meal, the high fiber content helps prevent blood glucose from rising rapidly after eating. Although calorie dense (230 cal/ one cup serving), lentils are low in fat and very filling – you won't be hungry after a lentil meal! I can vouch for that one from extended personal experience!
You can find lentils in the bulk bin aisle or in prepackaged containers.
A few tips on purchasing and cooking:
When purchasing in bulk, try to buy organic and make sure there is no moisture in the bin or in the packaging. Look for whole, not cracked lentils. Store them in an airtight container in a cool, dark and dry place. They will keep up to a year. When buying canned lentils, watch for added salt or other preservatives. though I don't recommend canned food AT ALL, just for your information, unlike other canned veggies, lentils do not lose much of their nutritional potency.
Lentils are easy to prepare (I do like to pre-soak them but if in a hurry, can cook without presoaking unlike other dry beans). Wash and strain lentils under cool water before cooking. You can boil lentils (I like to use my pressure cooker as a matter of habit, but you can use an Instant Pot as well if you have one) and store in the fridge for later use in casseroles, soups, rice or pasta dishes, salads, spreads/hummus, or soups. Cooked lentils stay fresh in the fridge in a covered container for about three days.
Write in the comments if you liked these tips and how you use lentils and share some of your favorite recipes if you can so all of us can benefit.
I look forward to hearing from you!
References:
Future of Food: Pulses & Nutrition. Accessed on 6 Sep 2016: http://pulses.org/future-of-food/pulses-nutrition

Video: NutritionFact.org. "Diabetics Should Take Their Pulses" http://nutritionfacts.org/video/diabetics-should-take-their-pulses/

Helmstadter, A. "Antidiabetic drugs used in Europe prior to the discovery of insulin." Pharmazie (2007) 62(9):717 – 720. http://www.ncbi.nlm.nih.gov/pubmed/17944329

MedicalNewsToday.com. Accessed 6 Sep 2016: http://www.medicalnewstoday.com/articles/297638.php

World's Healthiest Foods: Lentils. Accessed 6 Sep 2016: http://www.whfoods.com/genpage.php?tname=foodspice&dbid=52

Singhal, P., Kaushik, G., Mathur,P. "Antidiabetic potential of commonly consumed legumes: A review." Crit Rev Food Sci Nutr (2014) 54(5):655 – 672. Accessed 6 Sep 2016: http://www.ncbi.nlm.nih.gov/pubmed/24261538

Thompson, S.V., Winham, D.M., Hutchins, A.M. "Bean and rice meals reduce postprandial glycemic response in adults with type 2 diabetes: A cross-over study." Nutr J (2012) 11:23. Accessed 6 Sep 2016: http://www.ncbi.nlm.nih.gov/pubmed/22494488

MindBodyGreen.com. "7 Health Benefits of Lentils" Accessed 6 Sep 2016: http://www.mindbodygreen.com/0-5488/7-Health-Benefits-of-Lentils.html
Image attribution: rtsubin/bigstockphoto.com
The information offered by this blog is presented for educational purposes. Nothing contained within should be construed as nor is intended to be used for medical diagnosis or treatment. This information should not be used in place of the advice of your physician or other qualified health care provider. Always consult with your physician or other qualified health care provider before embarking on a new treatment, diet or fitness program. You should never disregard medical advice or delay in seeking it because of any information contained within this blog.
© Praana Integrative Medicine & Holistic Health Center, LLC. All rights reserved
Dr. Manisha Ghei February 19th, 2017
Posted In: Blog Post, Food, Integrative Medicine, Recipes
Tags: blood sugar, cholesterol, Diabetes Mellitus, Fiber, functional medicine, healthy heart, heart health, heart health month, heart healthy foods, heart healthy recipe, lentils, mindful eating, nutrition, recipe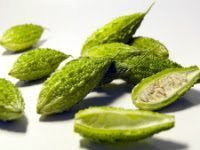 A cousin of watermelon, cucumber and pumpkin, Bitter Melon is shaped like a cucumber, only larger with lighter green and more gourd-like skin. In tropical cultures, where it's cultivated, bitter melon is used to support digestion because of its ability to break down carbohydrates. When using for medicinal purposes, the entire plant can be used, dried or fresh, from leaves and stems to the actual juice.
Holistic physicians and researchers are interested in Bitter Melon for its effect on blood glucose levels in patients with diabetes mellitus. Chemicals in the extract act similar to insulin. A number of studies have found that bitter melon juice, fruit and dried powder have a moderate effect on lowering blood glucose. In other studies, a "plant insulin" injection given to patients with Type-1 diabetes showed a decrease in blood glucose. The decrease was not as significant for patients with Type-2 diabetes, but there was a decline in blood glucose levels compared to a control group. It seems that source and type of preparatio
n, as well as individual patient factors, may play a role in the effect of bitter melon on diabetes, which will inspire further research.
In India, bitter melon is used to make different vegetable preparations. Juicing is another way to utilize its beneficial properties but since it is very bitter, I like to use some raw honey, beets, carrots and green apple with it. You can also blend bitter melon into various foods and enjoy it several times a week when it is in season.
Although considered relatively safe, consult your holistic practitioner to determine the appropriate type and amount to use for your particular needs. If you are pregnant or nursing, only use the supplement under the care of a qualified practitioner.
References:
Basch, E. et al, "Bitter Melon (Momordica charantia): A Review of Efficacy and Safety" American Journal of Health-System Pharmacy (2003). Web: 6 Sep 2016: http://www.ajhp.org/content/60/4/356.short

Shane-McWhorter, L. "Dietary Supplements for Diabetes: An Evaluation of Commonly Used Products." Diabetes Spectrum (Sep 2009), 22 (4) 206-213; DOI: 10.2337/diaspect.22.4.206 http://jn.nutrition.org/content/133/4/1088.short

Fuangchan, A., et al,. "Hypoglycemic effect of bitter melon compared with metformin in newly diagnosed type 2 diabetes patients."Journal of Ethnopharmacology (Mar 2011) 134 2: 422-428. Accessed 6 Sep 2016: http://dx.doi.org/10.1016/j.jep.2010.12.045 http://www.sciencedirect.com/science/article/pii/S0378874110009219

National Bitter Melon Council. http://bittermelon.org/eat/cookingbittermelon
Image attribution: oddief1/bigstockphoto.com
The information offered by this blog is presented for educational purposes. Nothing contained within should be construed as nor is intended to be used for medical diagnosis or treatment. This information should not be used in place of the advice of your physician or other qualified health care provider. Always consult with your physician or other qualified health care provider before embarking on a new treatment, diet or fitness program. You should never disregard medical advice or delay in seeking it because of any information contained within this blog.
© Praana Integrative Medicine & Holistic Health Center, LLC. All rights reserved

Dr. Manisha Ghei February 19th, 2017
Posted In: Blog Post, Food, Integrative Medicine, Recipes
Tags: Bitter Melon, Diabetes Mellitus, Food, functional medicine, Functional Nutrition, heart healthy recipe, Insulin Resistance, nutrition, recipe, Vegetable