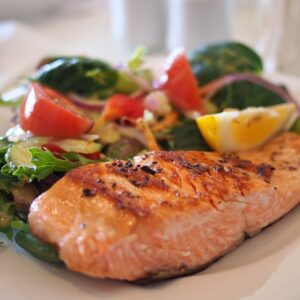 Essential Fatty Acids (EFAs) – Essential to Brain Health
I'm often asked what are the few nutrients I think are absolutely imperative and essential for good health especially in this modern world. One of the top nutrients in my list is Omega Essential Fatty Acids. Every patient who comes into my practice gets their Omega 3 levels and the ratio of Omega 3s to other omegas, like 6s, 9s etc tested and an appropriate individualized diet and supplementation (if required) plan created for them.
Decades of study and countless books have gone into exploring Omega-3 and the role it plays in our physical and mental health.
Here are 8 Essential Facts about this ESSENTIAL substance.
1. Omega-3 is called "essential" because it's necessary for our health, but we cannot make it on our own.
2. One essential Omega-3 fatty acid is a substance called α-linolenic acid (ALA). Our body can use ALA to make two other essential fatty acids: DHA (docosahexaenoic acid) and EPA (eicosapentaenoic acid). However, we don't make enough to meet daily needs for optimal health and the conversion of ALA to DHA and EPA is not efficient enough in most humans.
If you are deficient in Vitamin Bs of various kinds, Vitamin C, minerals like Magnesium and zinc you will not optimally convert ALA into DHA and EPA.
Have your physician test you for optimal levels of these nutrients and adjust your dietary plan and your supplement schedule to optimize the levels of these key supportive nutrients.
You may benefit from supplementation with:
3. Omega-3 is critical for preventing symptoms of chronic illness, such as inflammation, chronic fatigue, joint and muscle pain and poor elimination of toxins.
4. The brain thrives on Omega-3. Without enough, we can experience learning problems, memory issues, brain fog, ADHD symptoms and other neurological symptoms. Proper levels help protect us from Alzheimer's Disease. Balanced omega fatty acids are crucial in cardiovascular health and healthy blood pressure maintenance and insulin and blood sugar balance.
5. Food is a great source of Omega-3. Consider fatty fish like salmon, tuna, halibut, krill, flaxseed, walnuts and chia seeds (the latter 3 however give us ALA which needs to be converted to DHA & EPA).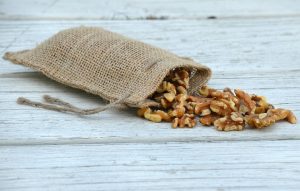 6. It's difficult to get sufficient amounts from food alone. Most Americans consume a daily average of 130 mg EPA + DHA – way below the recommended 1000-2000 mg. Consider adding a supplement to your diet. The Omega 3 supplement my family and I use, and I recommend to patients in my practice is International Fish Oil Standards (IFOS) five-star certified, which assures the highest level of purity, stability, and potency in fish oils. Each dose of this concentrated fish oil provides a whopping 900 mg of EPA and DHA in one softgel. Always check the the EPA and DHA content at the back of your bottle, as many times manufacturers will list a certain mg of fish oil on the front label of the fish oil bottle and it does not provide the accurate amounts of EPA and DHA that each serving has. This can mislead the buyer. 
7. Acquiring Omega-3 must be done in a focused fashion, with attention paid to the balance between Omega-3 and Omega-6 (a group of fatty acids linked to increased inflammation). An imbalance can adversely impact well being and brain health. 
8. Not all Omega 6s are bad! One known as DGLA (Dihomo-gamma-Linoleic Acid) is an antiinflammatory Omega 6 fatty acid. Other ones known as LA (Linoleic Acid) and AA (Arachindonic Acid) can be inflammatory in high amounts or when not in balanced amounts compared with DGLA.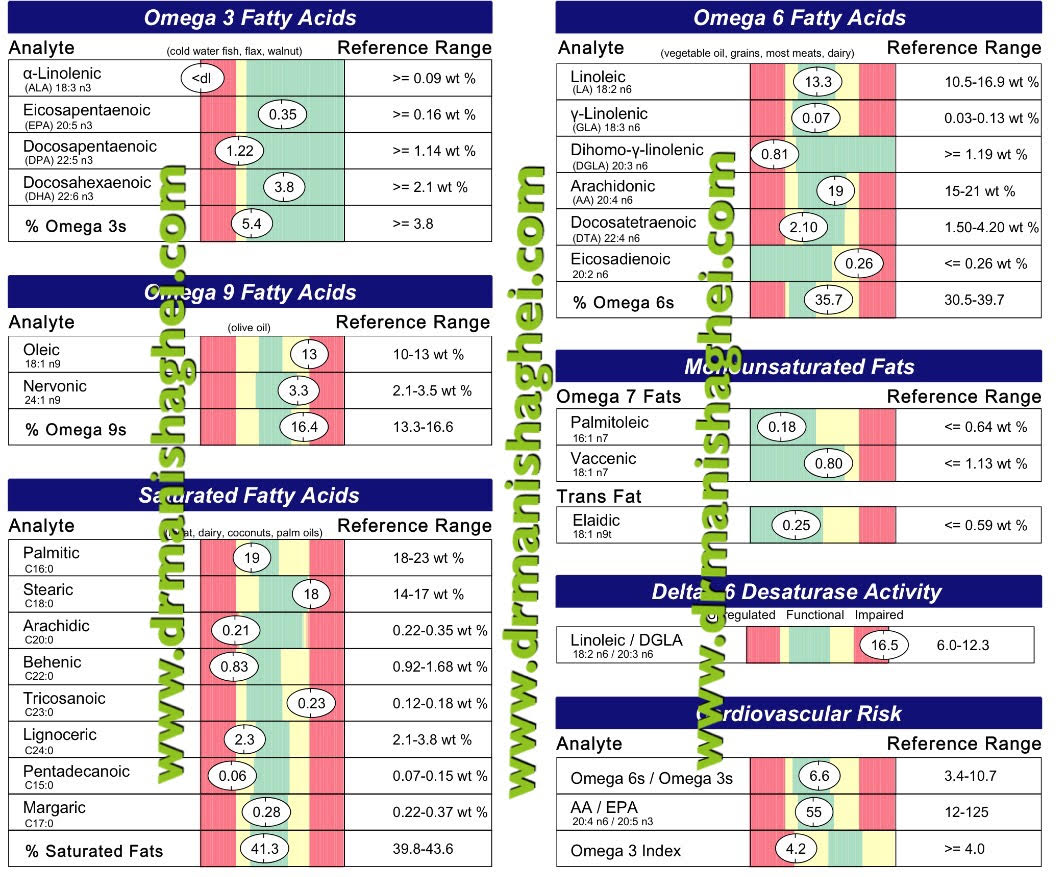 In my testing I look at individual levels of these key Omega 3 and 6 Fatty Acids but also the ratio of Linoleic to DGLA as seen in the image above. A simple blood test can give me all of the above information.
Consult your Functional Medicine and / or Integrative Holistic Medicine physician to assess your intake, test your levels, and explore ways to help you protect your health and cognitive function with essential Omegas.
References:
University of Maryland CAM Database Online. "Omega-3 Fatty Acids" Accessed 7 Nov 2016: http://umm.edu/health/medical/altmed/supplement/omega3-fatty-acids

Assisi A., Banzi R., Buonocore C., et al. "Fish oil and mental health: the role of n-3 long-chain polyunsaturated fatty acids in cognitive development and neurological disorders." Int Clin Psychopharmacol. 2006 Nov;21(6):319-36. Accessed 7 Nov 2016: https://www.ncbi.nlm.nih.gov/pubmed/17012979

Ricardo U., Dangour, A.D. "Nutrition in Brain Development and Aging: Role of Essential Fatty Acids" Nutrition Reviews (May 2006)64 (suppl 2) S24-S33; DOI: 10.1111/j.1753-4887.2006.tb00242.x http://nutritionreviews.oxfordjournals.org/content/64/suppl_2/S24

Bourre, J.M. "Effects of nutrients (in food) on the structure and function of the nervous system: update on dietary requirements for brain. Part 2: macronutrients". J Nutr Health Aging. 2006 Sep;10(5):386-99. Accessed 7 Nov 2016: http://www.bourre.fr/pdf/publications_scientifiques/260.pdf

NutritionData.com. Foods Highest in Total Omega-3 Fatty Acids. Accessed 7 Nov 2016. http://nutritiondata.self.com/foods-012140000000000000000.html?maxCount=20

Freund-Levi Y, Eriksdotter-Jonhagen M, Cederholm T, et al. "Omega-3 fatty acid treatment in 174 patients with mild to moderate Alzheimer disease: OmegAD study: a randomized double-blind trial." Arch Neurol. 2006 Oct;63(10):1402-8. Accessed 7 Nov 2016: http://www.utdallas.edu/~tres/papers/freund-levi.2006.pdf
The information offered by this blog is presented for educational purposes. Nothing contained within should be construed as nor is intended to be used for medical diagnosis or treatment. This information should not be used in place of the advice of your physician or other qualified health care provider. Always consult with your physician or other qualified health care provider before embarking on a new treatment, diet or fitness program. You should never disregard medical advice or delay in seeking it because of any information contained within this blog.
© Praana Integrative Medicine & Holistic Health Center, LLC. All rights reserved
Dr. Manisha Ghei April 16th, 2017
Posted In: Blog Post, Food, Functional Medicine, Integrative Medicine
Tags: ADHD, allergies, antioxidant, arthritis, asthma, blood pressure, cancer, cholesterol, Chronic fatigue syndrome, dementia, Diabetes Mellitus, fibromyalgia, functional medicine, healthy heart, heart healthy foods, Inflammation, Insulin, Memory, nutrition, Omega 3, vascular health